Agnieszka Orzelska-Stączek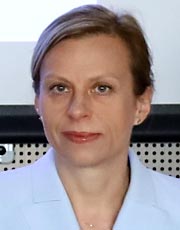 Dr hab. Agnieszka Orzelska-Stączek, prof. ISP PAN
Professor at the Institute of Political Studies of the Polish Academy of Sciences (ISP PAN), head of the project entitled The Three Seas Initative Research Center at ISP PAN. Graduated in international relations at the University of Warsaw and the Polish-French MA programme in European studies implemented by the Warsaw School of Economics (SGH) and the Institut d'Etudes Politiques de Paris. She has worked continuously at the ISP PAN since 1999. In 2002, she was awarded a doctoral degree for a thesis awarded by the Prime Minister of Poland. In 2004-2005, she was a scholarship holder of the Foundation for Polish Science.
Since 2012, when she obtained her postdoctoral degree, she has been employed as a professor at ISP PAN. From 2012 to 2018, she also taught at Lazarski University, where she received the Rector's award for very high achievements in teaching.
From July 2021 to December 2022, she was head of the Department of Central and Eastern Europe and Post-Soviet Studies of the ISP PAN. In 2023 she was elected a member of the Ethics Committee of the Scientific Council of the ISP PAN.