The recently concluded study visit to the Three Seas Initiative Bucharest Summit was attended by an 11-person delegation from the Three Seas Initiative Research Center project, Institute of Political Studies of the Polish Academy of Sciences (ISP PAN).
Our primary objective during the visit was the organisation of a conference titled Conclusions from the Three Seas Initiative Summit in Bucharest. The use of scientific research and academic dimension in regional cooperation in collaboration with the Romanian think-tank New Strategy Center. This conference was included in the official programme of the summit.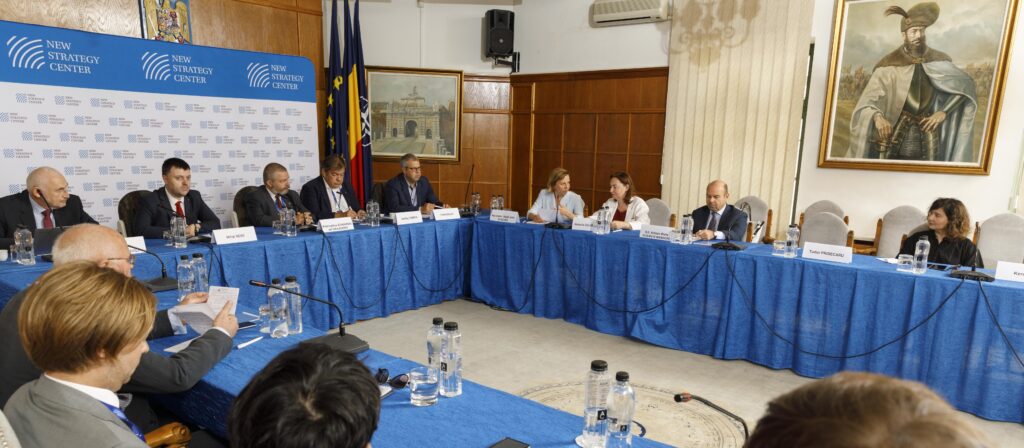 At the Business Forum, attendees had the privilege of hearing from Romanian Prime Minister Ion-Marcel Ciolacu and Romanian President Klaus Iohannis, along side guests including Polish President Andrzej Duda, Lithuanian President Gitanas Nausėda, Latvian President Edgars Rinkēvičs, Croatian Prime Minister Andrej Plenković and the United States Special Presidential Envoy for Climate John Kerry. The Forum also featured a variety of expert panels focused on the Three Seas Initiative's key areas of development: infrastructure, energy, and digitization.
In addition to attending the Summit and the Business Forum, participants had the opportunity to conduct meetings at various locations such as the European Institute of Romania, the Bucharest University of Economic Studies, the University of Bucharest and the German Marshall Fund. The discussions centred around various topics including the European Union, the Three Seas Initiative, security, and academic cooperation.
Another highlight of the visit was a talk by Professor Łukasz Murzyn at the National Museum of Art of Romania.